Zoetis announces equine dental CPD webinar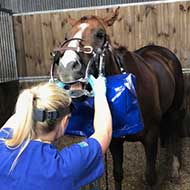 RCVS recognised specialists to lead informative session.

Animal health company Zoetis has confirmed that it will be hosting a free webinar for equine veterinary surgeons to help build their knowledge of modern techniques in equine dentistry.
The hour-long webinar – titled Selection Criteria for Modern Dental Techniques – is free of charge and takes place on Tuesday 18 May from 7.30pm. It will be hosted by founding director and co-director of the Equine Dental Clinic, Chris Pearce and Nicole du Toit.
Both Mr Pearce and Ms du Toit are RCVS recognised specialists in equine dentistry, they will cover a range of topics in the webinar, including:
performing good oral examination and diagnostics

understanding pathology leading to the presentation of common dental conditions

learning to grade lesions and categorise them for treatment

understanding the decision-making process for different scenarios.
Zoetis equine product manager Penny McCann said: "Chris Pearce and Nicole du Toit are known worldwide for their consulting, training, educating and CPD, as well as for running the longest established and largest equine veterinary dental specialist practice in Europe.
"We are delighted that they have agreed to share their knowledge with our client practices on 18 May and look forward to welcoming you."
To book your place for the webinar please visit the Zoetis website.
Images (c) the Equine Dental Clinic.