French Navy Commando dog receives posthumous PDSA Dickin Medal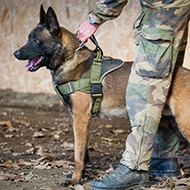 Hero dog was nicknamed Lucky Leuk for his extraordinary abilities.

PDSA has posthumously awarded a French Navy Commando dog with the highest honour available for animals – the PDSA Dickin Medal – for his incredible bravery and life-saving actions.
The Belgian malinois, named Leuk, was honoured at a private ceremony in Brittany where a monument commemorating all dogs who have died serving with the French Navy was also unveiled.
After joining the K9 division of the French Special Forces Commando Kieffer unit in July 2015, Leuk began working as a French Navy Commando attack and explosive detection Military Working Dog.
Leuk was an exceptionally skilled animal, trained in a wide range of insertion and extraction techniques. On a two-day mission in Mali in April 2019, he flushed out multiple armed insurgents, running through flames and gunfire to intercept and distract enemies therefore allowing his team to move in a neutralise the threat.
The operation was completed with no loss of life on the team.
In May 2019 Leuk was killed by an enemy whose position he had single-handedly exposed. When he was repatriated, his body was covered with the French flag and his team formed a guard of honour as a symbol of respect and gratitude for his life-saving actions.
PDSA director general Jan McLoughlin presented the medal virtually. She said: "Leuk's actions undoubtedly saved the lives of his unit on multiple occasions. He pushed through flames and bullets to succeed, fearlessly exposing and taking down enemy insurgents; he truly is a worthy recipient of the PDSA Dickin Medal."
Commander Nicolas, commanding officer of Commando Kieffer, commented: "It is a great pride for all of us to see Leuk honoured in this way with the prestigious PDSA Dickin Medal. His story helps to demonstrate just how important animals are to our armed forces, and the key roles that they play."
Leuk is the 73rd recipient of the PDSA Dickin Medal, and the first French Military Working Dog to receive the honour. To read more about his incredible story, please click here.
Images (c) PDSA.