Farm vet Dr Vicky Hudson joins Harper Keele Vet School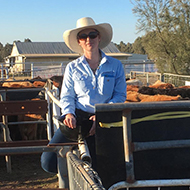 Dr Hudson brings experience from her international career to new teaching role.

Harper Keele Vet School (HKVS) has announced the appointment of farm animal veterinary surgeon Dr Vicky Hudson as a Clinical Teaching Fellow.
Growing up on her family's farm in Castleford, Yorkshire, Dr Hudson has been interested in cattle and sheep health from a young age. She gained a degree in Bioveterinary Sciences from the Royal Veterinary College in London, before moving on to study Veterinary Medicine at the Royal (Dick) School of Veterinary Science in Edinburgh.
After graduating, she began an internship as a livestock veterinary surgeon in Cumbria. She transitioned into an associate role with the same practice after this, before undertaking locum work then becoming an official veterinarian for the APHA in Cheshire.
Dr Hudson moved to Australia, working as a clinical registrar for the University of Sydney for three years before returning to the UK and taking up her new role with Harper Keele Vet School.
Alongside her teaching role, she works as a veterinary surgeon at LLM Farm Vets in Whitchurch. She hopes to take the research into animal welfare and production being carried out at universities such as Harper Keele out to farmers through her veterinary work.
Dr Hudson said: "Having an animal in optimum condition means they will make the most of everything you are putting into them. That's why I am interested in improving welfare in tandem with production, showing that investing in welfare will directly improve the profitability of livestock."
She is also invested in sustainable farming and hopes to thread both research and sustainable practice into her teaching.
Image (c) Harper Keele Vet School.