Professor Michael Day receives posthumous award from the RCVS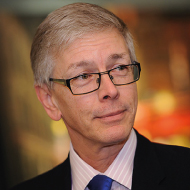 Former VP of WSAVA Foundation is recognised for contributions to AFSCAN project.

Emeritus Professor Michael Day, who sadly passed away last year, has been recognised for his work by the RCVS in the College's annual Honours and Awards.
Professor Day was honoured posthumously with the RCVS International Award, which recognises veterinary surgeons, veterinary nurses or laypeople who have worked internationally, from either within or outside the UK.
He was nominated by Dr Frances Barr FRCVS, a veterinary surgeon who worked with Professor Day at the University of Bristol and during his time as chair of the BSAVA's Education Committee.
She said: "Michael Day was a prolific researcher and writer, focusing on companion animal immune-mediated and infectious diseases. His contributions to the field were acknowledged by many awards, including the BSAVA Amoroso Award, the RCVS Trust's G Norman Hall medal and the Pet Plan Charitable Trust Scientific Award.
"Michael's involvement with the international veterinary sector strengthened when he began a long and fruitful association with the World Small Animal Veterinary Association in 2003. He was Chair of the WSAVA Vaccination Guidelines group from 2009 - 2020. In 2010 he became the founding chair of WSAVA's One Health committee.
"He was also vice-president of the WSAVA Foundation, helping to develop and lead the scientific aspects of the pioneering AFSCAN project to raise standards of companion animal veterinary care in Sub-Saharan Africa."
Just under two weeks before he passed away in May 2020, Professor Day received the prestigious WSAVA Award for Global Meritorious Service in recognition of his outstanding contribution to the understanding of immunology and vaccination.
Image (c) WSAVA.