Blue Cross reports highest ever week of sales for charity shops following reopening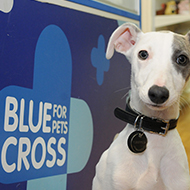 Charity raises thousands for pets in need as lockdown measures lift.

Blue Cross is celebrating a record week of sales since its charity shops re-opened on Monday 12 April, revealing that the stores were as busy during the week as they are during the pre-Christmas period.
Blue Cross has 54 shops spread across the UK. Last week brought with it an almost 30 per cent growth on revenue through shop sales, with customers spending more than £120,000. On the first day alone, Blue Cross' charity shops raised more than £35,000.
David Palmer, retail operations manager at Blue Cross said: "We are absolutely delighted to see a record week of sales. Our retail team worked tirelessly to make sure the shops were ready and were excited to welcome back visitors and supporters who came to browse and buy the quality pre-loved items we have for sale."
The charity shops help Blue Cross to raise funds for thousands of unwanted, abandoned and sick pets each year. The charity is urging pet lovers across the country to support its work by volunteering their time or good quality items of clothing, furniture, toys, and more.
As a result of Government guidelines around COVID-19, Blue Cross asks anyone wishing to make a donation to any of its charity shops to that make an appointment beforehand and wear a face covering when inside the shops.
Image (c) Blue Cross.