RCVS announces recipients of its 2021 Honours and Awards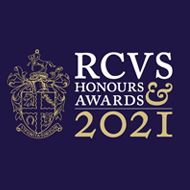 Vets, vet nurses and vet students acknowledged by regulatory body.

The RCVS has recognised the outstanding work of veterinary professionals who have gone above and beyond in their work, as part of this year's RCVS Honours & Awards.
Among this year's winners were Dr John (Iain) Glen MRCVS from AstraZeneca, who won the Queen's Medal for his contribution to the discovery and development of the widely-used anaesthetic drug propofol and Dr Daniella Dos Santos MRCVS, who received the Inspiration Award for her role in supporting the profession during the pandemic.
The VN Golden Jubilee Award was presented to animal physiotherapist Kirsty Cavill RVN, who has helped countless older dogs with canine arthritis, as well as educating and advising others on therapeutic techniques.
The RCVS International Award was awarded to Emeritus Professor Michael Day from the University of Bristol, who sadly passed away in May 2020.
This year the RCVS introduced two new awards: the Compassion Award, which recognises a veterinary surgeon or nurse who has demonstrated compassion towards colleagues and/or pet owners; and the RCVS Student Community Award, which is bestowed upon a veterinary or veterinary nursing student who has strived to support their fellow students and the wider community.
The inaugural recipients of the Compassion Award are Dr David Martin of the Brownlow Veterinary Group in Shropshire and Olivia Wassell RVN from the Blue Cross Animal Hospital in Hammersmith, London.
Two students received the RCVS Student Community Award: Jack Church, who spent much of last year volunteering at an adult ICU COVID-19 ward alongside his studies at Surrey Vet School, and Lavinia Economu from the Royal Veterinary College, who is a driving force behind the student-led organisation Animal Aspirations. This group works to inspire young people from BAME communities into the veterinary professions.
Dr Mandisa Greene MRCVS, RCVS president, said: "From veterinary students to veterinary surgeons and nurses who have been practising for decades, all our award winners demonstrate that veterinary professionals and veterinary science has a profound and positive impact not only on animal health and welfare but also wider society. I am immensely happy and proud for them all and look forward to formally being able to present them with their awards later this year."
For a full list of the awards and winners, please visit the RCVS website.
A formal awards ceremony will take place on Thursday, 23 September 2021.