Dr Kate Richards set to become RCVS president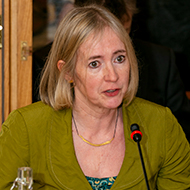 College may soon have an all-female presidential team for the first time in its history.

Dr Kate Richards has been elected by RCVS Coucil as junior vice president with immediate effect and is set to become president in July.

It means that, come July and subject to ramification by RCVS Council, the offices of RCVS president, senior vice president and junior vice-president will all be held by women for the first time in the College's 177-year history.

Current RCVS president Dr Mandisa Greene will become senior vice-president, while Melissa Donald will take up the role of junior vice-president. The current senior vice-president Dr Niall Connell was recently elected RCVS Treasurer.

Dr Richards said: "I am delighted to be elected JVP. It's been an exceptionally challenging year for those in all walks of veterinary life, including students aspiring to join our profession.

"It will be an honour to lead the RCVS as its tenth female president, working with veterinary colleagues as well as reaching out to allied professionals acknowledging that there will be challenges to navigate as well as triumphs to celebrate."

Dr Richards has been a member of RCVS Council for some time, having first been elected in 2015 for a four-year term, and again in 2020. She has previously served as chair of the RCVS Standards Committee and RCVS representative on the UK coordination group for the Federation of Vets of Europe (FVE).

She is currently vice-chair of the Education Committee and an appointed veterinary member of the Veterinary Nurses' Council.

A graduate of Edinburgh's Royal (Dick) School of Veterinary Studies, Dr Richards worked for 15 years as a farm animal vet before moving into the pharmaceutical industry as a veterinary advisor and later joining Defra.
She has held non-veterinary Senior Civil Service (SCS) roles in several Whitehall departments including the Cabinet Office and the Ministry of Justice.