New masters degree launched on animal welfare and legal system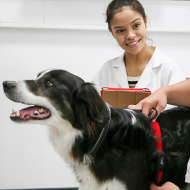 Course will provide graduates with skills to work in management roles.

A new postgraduate degree launched by Hartpury University will focus on animal welfare and the UK legal system – providing graduates with the knowledge to pursue management roles in the animal welfare sector.
The MSc Animal Welfare, Policy and Legislation degree mainly takes place online and offers full and part-time pathways to allow for flexible study. It will cover content applicable to a wide range of animal industries, including livestock farming, zoos and the management of feral animals.
The course will include guest lectures from academic and industry professionals and students will be given opportunities to put their studies to practice in real-world settings, including on campus at Hartpury.
Some of the modules included on the course are:
Advanced Principles of Animal Welfare

Regulating Agriculture and Food Production

Captive Exotics and Wildlife Policy and Law

Companion and Working Animal Regulations.
Dr McCormick, head of animal and agriculture at Hartpury University, said: "The animal welfare sector is diverse, covering everything from agriculture to pet shops and rescue centres to wildlife conservation.
"As graduates progress into management positions, they're likely to find themselves responsible for legal compliance.
"If they're working for government or charitable organisations, they may even be involved in important consultation and lobbying to drive forward new legislation.
"This new course will provide graduates with the expertise they need to navigate the legal system and make a difference to the lives of animals through improved welfare standards."
For more information on the MSc Animal Welfare, Policy and Legislation degree at Hartpury University, please click here.
Image (c) Hartpury University.