VetGDP e-learning modules now online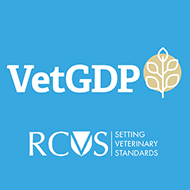 RCVS programme is replacing the Professional Development Phase

The first RCVS e-learning modules for vets who wish to become veterinary graduate development programme (VetGDP) advisors are now available online.

VetGDP, which is replacing the Professional Development Phase (PDP), will see the introduction of VetGDP advisors, who will provide one-to-one support to new graduates to help build up their confidence.

Advisors must be veterinary surgeons with at least three years' experience who can provide structured, one-to-one support for new veterinary graduates. Practices wishing to employ new graduates will be required to have at least one trained VetGDP advisor to ensure the provision of this support.

To become a VetGDP Adviser, veterinary surgeons need to complete all six modules within the RCVS e-learning programme, the first two of which have now been published.

Module 1 provides a general overview of the programme, its aims and intended outcomes. It also includes further detail of the framework of Entrustable Professional Activities for graduates' e-portfolios, and how these are used in the VetGDP Context.

Module 2 introduces some of the latest research on how best to provide feedback and support to graduates in the workplace, to make sure that they are building their knowledge, skills and confidence effectively.

Each module amounts to between two and three hours of continuing professional development (CPD). The other four modules will be released in due course.

RCVS director of education, Dr Linda Prescott-Clements, commented: "Thank you to the almost 1,800 veterinary surgeons who have so far registered an interest in becoming a VetGDP Adviser. I can't emphasise enough how crucial this role will be in supporting the next generation of vets to become confident, competent professionals.

"The VetGDP Adviser will be someone graduates can turn to for feedback and help and advice on their development, their goals and their strengths and weaknesses. With the publication of these first two modules, the start of the VetGDP Adviser training process is now underway and we hope to see those who have registered an interest taking an active part."
More information about the e-learning course can be found at rcvs.org.uk/vetgdp-guidance