Vet students win grant to safeguard hedgehogs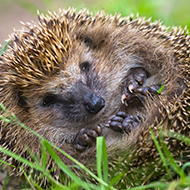 Funding to protect wildlife at University of Edinburgh's Easter Bush campus

Veterinary students at the University of Edinburgh have won a £2,000 Student Experience Grant to develop the Easter Bush Campus into a haven for hedgehogs and other wildlife.

Sarah Batiste, Niamh Duthie and Niamh Kinch will use the funding – made possible by donations to the university - to survey the site and establish where improvements might be best made.

Sarah Batiste commented: "We are extremely lucky to work and study in a campus that is surrounded by green and forested landscapes and home to significant biodiversity. We would like to create spaces that foster and promote this by supporting dwindling hedgehog populations."

Among the planned improvements include safe water sources, ramps in ponds and increased wildflower coverage. The team also hopes to install an on-site wildlife camera to measure the impact of their efforts and signs to alert drivers of hedgehog populations.

The project, expected to take around a year, builds on previous measures to develop the campus into a place where hedgehogs can safely feed, shelter and breed.

In February, the University of Edinburgh scooped a silver accreditation as a hedgehog-friendly campus, and a 2020 survey revealed hedgehog footprints in temporary tunnels around Easter Bush Campus.