'Diamond geezers and geezelles' sought for BEVA's 60th anniversary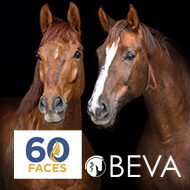 Nominations open for the top 60 faces of the equine veterinary profession.

The British Equine Veterinary Association (BEVA) is celebrating its diamond anniversary in 2021 - and to celebrate it will be highlighting 60 members of the equine veterinary community who have had a profound impact on the profession.

The organisation is calling on its members to nominate individuals who have inspired, developed and advanced the equine veterinary profession for the better. Each of the 60 individuals' stories will feature on BEVA's website and social media platforms, together with information about their workplaces and personal contributions to the profession.

BEVA president Lucy Grieve said: "We are proud of BEVA's heritage and want to recognise our 60th birthday by celebrating some of those who have made a significant difference to the equine veterinary community. We want you to help us identify the 60 individuals who you believe have truly inspired, influenced and progressed the equine veterinary profession for the better.
She continued: "We have already started the list with Colonel John Hickman, Sue and Peter Rossdale, but there are hundreds of exceptional, deserving individuals who have made a huge difference to the equine veterinary profession and are worthy of our 60 faces roll call. If you've got a special 'diamond geezer' in mind, we need to hear from you."

The nomination period runs until Friday, 16 April, when BEVA Council will review all submissions to select the top 60 faces of the profession. The individuals will be showcased and celebrated by BEVA throughout the year.

To submit a nomination, visit beva.org.uk/60-Faces