80 per cent of vets saw cases of chocolate poisoning during Easter 2019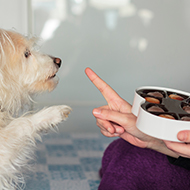 BVA urges pet owners to be mindful of hazards during Easter break.

The BVA has issued a warning to pet owners ahead of the Easter weekend; reminding them to keep chocolate out of reach of pets in order to avoid cases chocolate poisoning.
The Association's recent Voice of the Veterinary Profession survey revealed that 80 per cent of veterinary professionals working in companion animal practice saw at least one case of chocolate poisoning in the lead up to Easter 2019. More than half (54 per cent) of respondents had seen three or more cases in this period.
Veterinary practices typically see an increase in cases of chocolate poisoning around Christmas and Easter. But, with COVID-19 restrictions leading to more people spending time at home together, the BVA says that there is an increased risk with sweets and chocolate being more easily accessible to animals.
The Association also reminded pet owners to be mindful of the dangers of raisins and sultanas, found in hot cross buns and simnel cakes.
BVA senior vice president, Daniella Dos Santos said: "Many of us will be looking forward to indulging over the long Easter weekend, but keep any sweet treats out of reach of curious pets.
"As we are all currently spending more time indoors, it is worth remembering to not leave treats lying around. Cats and other pets may be less inclined to sniff out and eat chocolate than dogs, but they can also suffer with chocolate poisoning."