Study reveals impact of COVID-19 litter on wildlife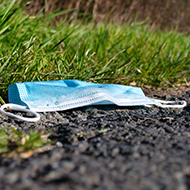 Biologists call for help to better identify the consequences.

A fish entrapped in a medical glove and a robin entangled in a face mask. These are just two of the hundreds of observations reported in a new study exploring the effect of COVID-19 litter on animal life.

Led by biologists Auke-Florian Hiemstra from Naturalis Biodiversity Center and Liselotte Rambonnet from Leiden University, the study also reports the first cases of birds using medical face masks as nesting material.

The study began in August 2020, when volunteers found a dead perch in the thumb of a latex glove while cleaning up the Leiden Canal. The fish is understood to be the first Dutch victim of COVID-19 litter.
To better understand the impact of PPE on animals, Hiemstra and Rambonnet set out to establish how often and where interactions between COVID-19 waste and animals occur.
The pair used a mix of social media, local newspapers and international newspapers to identify hundreds of reports across the globe of animals ingesting corona waste or getting entangled in it. The reports include apes chewing on face masks and a penguin found with a face mask in its stomach. Pets were also affected, with several dogs found to have swallowed face masks.

Describing their findings in the journal Animal Biology, Hiemstra and Rambonnet note that some animals use the waste as nest material. Coots in Dutch canals, for example, use face masks and gloves as nest material.
"The packaging from paper handkerchiefs is found in nests too," says Hiemstra. "As such, we even see the symptoms of COVID-19 in animal structures."

Hiemstra and Rambonnet are now calling on people to keep sharing their observations so they can build up an even bigger picture of the impact of PPE disposal on wildlife. To enable this, they have set up the website covidlitter.com

They hope this overview will raise awareness of the danger of face masks and gloves for wildlife. The researchers are also calling everybody to use reusable face masks.