Trial shows benefit of stewardship programmes for AMR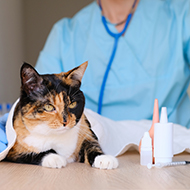 Findings will form the basis of a national programme.

Stewardship programmes can help reduce the use of the highest priority critically important antimicrobials (HPCIAs) in veterinary practice, according to new research.

A trial by the University of Liverpool's Small Animal Veterinary Surveillance Network (SAVSNET) found that antimicrobial stewardship programmes can cut the use of HPCIAs by as much as 40 per cent.

In the trial, high frequency-prescribing veterinary practices were randomly placed into three groups: a control group, a light intervention group and a heavy intervention group, consisting of 20 veterinary practices in each group.

Over eight months, both intervention groups saw a significant decrease in HPCIA prescription frequency in cats; the light group by 17 per cent and the heavy group by 40 per cent. In dogs, the only significant decrease was seen in the heavy group, which saw HPCIA prescription frequency fall by 23 per cent.

Lead researcher Dr David Singleton explained: "This trial demonstrates that companion animal veterinary practitioners respond to notification of being outside of a 'social norm' (i.e. being a high-frequency HPCIA prescriber), and are responsive to involvement in structured antimicrobial stewardship programmes."

Antibiotic resistance (AMR) is one of the biggest threats to human health. According to the World Health Organisation, at least 700,000 people die each year due to resistant diseases – a figure which is predicted to exceed 10 million people per year by 2020.
Dr Singleton added: "Use of antimicrobials is a key driver for development of AMR. It is vital that the veterinary profession embraces the responsible use of antimicrobials, to safeguard human and animal health and to preserve the right to prescribe certain antimicrobials that are important in human medicine.
"Of these, the highest priority critically important antimicrobials (HPCIAs), including fluoroquinolones and third-generation cephalosporins, are considered of greatest importance by the World Health Organisation."

The findings of the trial, published in Nature Communications, will now form the basis of a national antimicrobial stewardship programme, in collaboration with SAVSNET, CVS Group and RCVS Knowledge.

Co-author Angela Rayner, director of quality improvement at CVS Group, added: "We are grateful for and wish to say thank you to, the many people who have supported this trial and to the hard work of the practice teams in CVS, who responded to the call to action to produce these excellent results. Without these caring individuals, this would not have been possible."