Confusion over Petlog database upgrade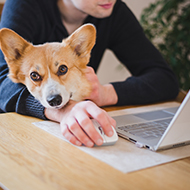 Firm issues statement after claims owners' details were 'misplaced'.
Pet owners registered with the microchip database Petlog are being urged to create a new account after an 'upgrade' led to claims that people could see other owners and animals' details.

Petlog has posted a statement on its website seeking to reassure its customers that their details are safe. But it appears the issues are ongoing.

One customer commented on the firm's Facebook page that she had re-set her account as instructed 'but had now been matched with a complete stranger'.

Another wrote: "I have 8 microchips...none on my account!! No idea when this will be fixed and in the current climate of pet theft, this is a massive massive cock up! So now not only are pet owners constantly worried about their pet being stolen, the very system that offers a glimmer of hope of getting them back is flawed!"

It comes at a time when dog thefts in the UK are on the rise. Figures released by DogLost - the UK's largest lost and stolen dog service – revealed that pet thefts rose from 172 dogs in 2019 to 465 in 2020.

Missing Pets GB urged owners to check their account as a matter of urgency.

A Petlog spokesperson said: "Petlog's online services and website have been upgraded. We would like to reassure customers that all details are securely registered on our microchip database and our 24/7 reunification service is running as usual.

"As part of this upgrade, we have asked our customers to follow steps to create a new online self-serve account with us, we are not asking customers to re-register their pets. There is a step-by-step guide in the FAQs page on how to do create your new online account.

"There are some customers – for instance, those whose details may have changed or not been checked on our database since their pet was first registered with us - who may be unable to immediately view their pets' details when they set up their new online account.

"This is because we are committed to protecting their data, and we want to verify details, in some cases, before we continue the online setup process - just as when setting up an online bank account a bank may verify identification information before you can view and access your records.

The spokesperson continued: "Customers whose pets aren't displaying on their online account can fill in the 'can't see my pet' form and our team will review their details so their online account can be updated and all of the information about their pet can be displayed."