Cats Protection shares benefits of a pragmatic approach to treatment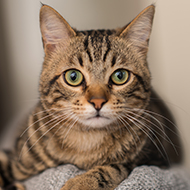 Charity vet gives presentation at BSAVA Congress 2021.

Cats Protection delivered an insightful presentation today at BSAVA Congress 2021 on how 'shelter medicine' can be used in a private practice setting to develop timely, cost-effective treatment plans.
The COVID-19 pandemic has resulted in many veterinary practices and animal shelters having to limit their scope of service, and the forecast economic recession will also mean that owners will have less to spend on their pets. So, in many cases, practices will have to consider a more pragmatic approach so that they can continue to treat animals successfully.
Veterinary surgeon Lauren Kirk, who works at Cats Protection's National Cat Adoption Centre in Sussex, shared some insight into how veterinary staff working in shelters approach diagnosis and treatment and how this clinical style can be used by private practices as we begin to ease out of lockdown.
Ms Kirk stressed the importance of considering the bigger picture when taking a pragmatic approach; focusing on addressing the most critical, treatable conditions that will have the largest impact on the animal's welfare and being realistic and flexible about the available resources.
When developing a treatment plan with a shelter medicine mindset, Ms Kirk recommends assessing whether it is cost-effective and gives the shortest time to resolution. As well as not being afraid to alter the plan if the patient is not improving.
The veterinary surgeon spoke about the need to plan ahead, considering whether certain tests or treatments are absolutely necessary and whether they will change the treatment plan at all. She reminded delegates not to be guilty of over-treating and not to be afraid to just observe and wait if a patient seems to be doing well.
Ms Kirk also urged delegates to consider a spectrum of care approach, adding: "This model can help us continue our oath while working within the financial constraints of our clients."
The full presentation will be available to view on the BSAVA congress platform in the coming days.