New research underway to track urban squirrels in Aberdeen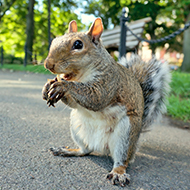 Results will inform red squirrel conservation programmes.

New, ground-breaking research by the University of the Highlands and Islands, in collaboration with the Scottish Wildlife Trust, aims to better understand how grey squirrels live and move in urban areas.
Currently, very little is known about the habitat preferences, movement corridors and home range size of grey squirrels. Researchers are aiming to gather information by monitoring the movements of ten grey squirrels in Aberdeen between late March and July.
The research is funded by Forestry and Land Scotland and will be carried out under a special licence from NatureScot. The teams will be using VHF (Very High Frequency) radio and GPS (Global Positioning System) tracking to monitor the squirrels.
Since 2007, a targeted grey squirrel control programme has been in place in the Aberdeenshire countryside, in order to help preserve red squirrel populations which struggle to compete with their grey counterparts.
The results of this new study will provide further support to red squirrel conservation in the region.
Research Fellow at Inverness College UHI, Dr Louise de Raad, said: "This exciting research will make use of the latest GPS tracking equipment that has become small enough to be fitted to grey squirrels.
"This will allow us to gain a much better understanding of grey squirrel ecology in a semi-urban environment and investigate what their preferred habitats are, how large their home ranges are, how far they travel in a day and whether they make use of movement corridors.
"This will inform best practices for grey squirrel population control and make a significant contribution to red squirrel conservation".