Crowdfunder launched to help Edinburgh Zoo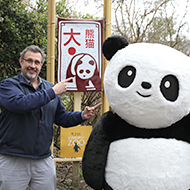 RZSS and Cheeky Panda team up to offer a host of exciting experiences for animal lovers.

The Royal Zoological of Scotland (RZSS) has launched a crowdfunding appeal to help Edinburgh Zoo recover from the pandemic.

The wildlife conservation charity has teamed up with eco brand Cheeky Panda to deliver a range of experiences and gifts, including virtual tours, animal adoptions, zoo memberships and giraffe feeding.
RZSS chief executive David Field said closing the park had cost the charity more than £2 million.

"With a food bill of £60,000 a month, every donation, membership, adoption, and experience will help feed our amazing animals and give them the very best of care," he said.
"Recently we launched a prize draw for a behind the scenes visit to the zoo, which raised more than £70,000, with the winner being announced this week. Now we have opened Edinburgh Zoo again we want to help people get close to nature once more and enjoy incredible experiences and rewards."

Mystery animal magic moments, virtual team-building tours and the opportunity to sponsor animal enclosures are just some of the other exciting experiences up for grabs.

To mark National Panda Day (16 March), Cheeky Panda has donated £50,000 to the appeal, with all proceeds going towards the cost of feeding the animals.
Cheeky Panda founder Chris Forbes, said: "We are proud to be supporting Edinburgh Zoo because we love big, bamboo-munching, black and white bears, and we both share a passion for conservation. We want to work with this special zoo to raise awareness of the need to protect wildlife worldwide and create a more sustainable planet for future generations."

For more information and to support the campaign, visit crowdfunder.co.uk/edinburghzoo
Image (C) RZSS.