Vets sought for equine grass sickness project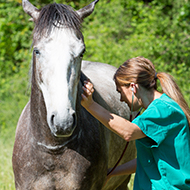 Fellowship aims to establish a national database and sample biobank.

Vets are being invited to assist with an innovative project to discover the causes of equine grass sickness (EGS).

The project is being led by The Moredun Foundation Equine Grass Sickness Fund to create a national EGS sample biobank and database. It follows the launch of a three-year Fellowship to breathe fresh thinking and multi-disciplinary approaches into EGS research.

As part of the project, researchers are calling on veterinary practices to assist them with sample collection (pre-and post-mortem) of any EGS cases they have.
With funding from the British Horse Society, sample packs, protocols and return postage boxes will be provided to all participating vets practices. Funding is also available for vets to apply for a set fee to cover their time.

Participating practices will be able to get involved with the project through practice or regional meetings and will be kept updated with progress as the fellowship progresses.
Those wishing to take part can register for a webinar scheduled for Tuesday 23 March at 7.30 pm.