Virtual women's leadership event announced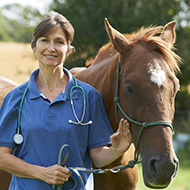 'Dare to Lead' will explore what it means to be vulnerable in leadership.

Veterinary Women has announced its second Veterinary Women in Leadership event with a focus on 'Dare to Lead'.

Organised in collaboration with XLVets, the virtual event will focus on the work of Brené Brown, a world-renowned leadership researcher and writer. The event will also showcase role models from across the industry and coached breakout sessions to tackle leadership challenges.

Roxanne Hobbs of the Hobbs Consultancy, a certified 'Dare to Lead' facilitator, will host an interactive workshop about what it means to be vulnerable as a leader, translating values into action and building trust within teams.

"What makes a good leader is always up for debate as leadership is a socially constructed concept," said Kerrie Hedley, COO of XLVets. "However, the leadership research work of Brené Brown found that whatever your definition of leadership, the world needs braver leaders to create more courageous cultures, which in turn drive engagement, productivity and innovation within workplaces."

The inspiration role model showcases will include women from practice, business, industry, veterinary nursing and students. Among the confirmed names are RCVS President Mandisa Greene, Lou Northway RVN and recipient of the RCVS Inspiration Award, and IVSA President Keeley Orin.

The event will culminate in a series of coached breakout sessions to enable delegates to discuss the challenges in their leadership journeys. There will also be opportunities to network.
Liz Barton, editor of Veterinary Woman, commented: "We wanted to provide some time for attendees to share their personal barriers within small peer groups, facilitated by coaches to guide the conversation and provide action points moving forwards."

For more information about the event and register your place, visit xlvets.co.uk