Programme released for 29th National Equine Forum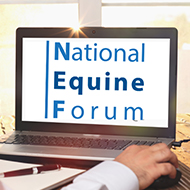 Virtual event will cover topics affecting the equine industry today.

The programme for the National Equine Forum – taking place online on Thursday 4 March – has been released. This year's programme will include presentations on the impact of Brexit, as well as inclusion and diversity within the equine industry.
The National Equine Forum (NEF) committee held two special interest webinars in January: Just in Time – Using Science to Save our Breeds and The Great Weight Debate (Equine). Updates and outcomes from both sessions will be covered at the NEF.
Tim Brigstocke, chairman of the NEF said: "While times continue to be challenging, presenting events in a virtual capacity can make them more accessible to many. In this way we hope NEF will engage and inspire even more participation, helping to disseminate the latest knowledge and news within the equestrian sector, presenting the opportunity for questions and debate from all interested parties."
Sessions in the 29th National Equine Forum will include:
The Equine Industry in a Changing World

Adding Value Through Data

The Impact of Brexit on Our Industry

Engaging with More Diverse Communities Within Equestrianism

The Use of Technology to Support Equestrianism

Highway Code and Accidents
British Horse Council chair David Mountford will also provide a short update on the role and work of the organisation.
The audience will have a chance to engage with the discussions through Q&A opportunities and the day will close with the announcement of the Special COVID-19 Sir Colin Spedding Award winner.
For more information or to purchase tickets, please visit the National Equine Forum website.