Survey seeks views on NOAH Compendium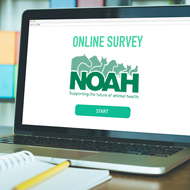 Responses will be used to shape and inform future editions.
Users of the the NOAH Compendium of Data Sheets for Animal Medicines are being encouraged to share their views of the resource for a chance to win one of three £100 Amazon vouchers.

NOAH (National Office of Animal Health) would like to hear from veterinary professionals who use the Compendium through the book, website or app, with the feedback being used to inform and shape future editions. A link to the survey can be found here.

Dawn Howard, NOAH chief executive says: "In order to find out more about how the Compendium is used and to help identify future needs, we are running a survey of users who work in veterinary practices. We have enlisted the help of consultant Mo Gannon & Associates to help us in this task.

"The more feedback we get, the better we can plan how to best provide this valuable resource in the future, so we are really keen to get a good response. Taking part in the survey will give users the opportunity to say how they think we can improve the Compendium in future years to assist them in prescribing veterinary medicines and advising animal keepers on their use."

The survey will remain open until 5 March and takes around 10 minutes to complete.