Larry the Downing Street cat celebrates ten years at Number 10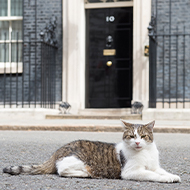 Beloved Battersea rescue cat has fans across the globe.

Monday 15 February marks ten years since 10 Downing Street's resident cat Larry took on the role as 'chief mouser to the cabinet office'.
The fourteen-year-old tabby was brought into a Battersea rescue centre in 2011, before moving to Downing Street the next month. He has since been a trusted companion to three Prime Ministers and has gained a huge following on social media.
"It seems like only yesterday that Larry came to our cattery as a stray in need of a home," said Battersea's head of catteries and feline welfare, Lindsey Quinlan. "I don't think anyone back then could have imagined just how incredible his life would turn out to be."
She continued: "Throughout his time at Number 10, Larry has proven himself to not only be a brilliant ambassador for Battersea, but also demonstrated to millions of people around the world how incredible rescue cats are."
Larry has been the subject of numerous viral photos and videos over the years. When Barack Obama visited Downing Street, he quickly bonded with Larry and photos of the then President of the United States spending time with the cat were shared worldwide.
In 2018, the scene of a Number 10 guard letting Larry into the building after he was caught in a downpour quickly went viral after it was captured in the background of several live news reports.
A Number 10 spokesperson said: "A much beloved member of the Number 10 team, Larry plays a vital role as chief mouser and in delighting staff and the public alike with his playful antics.
"We're proud to support Battersea and other animal welfare organisations in their mission to ensure our furry friends have a loving and safe home."

Images (c) Press Association and Justin Ng.