Orphaned otter cubs found wandering streets of Inverkeithing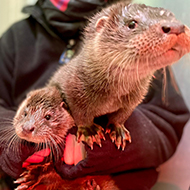 Scottish SPCA cares for cubs at National Wildlife Rescue Centre.

Two otter cubs are currently being cared for by the Scottish SPCA after they were found wandering the streets by members of the public on Saturday 6 February.
The cubs – one male and one female – are around three to four months old. The Scottish SPCA suspects that their mother was involved in a road traffic accident or some other disturbance and didn't make it back to the cubs.
They were spotted wandering down the road in Inverkeithing on Saturday night. The female cub was followed to a nearby field by members of the public, who then contacted the rescue charity.
Centre manager Steven Gray said: "The pair wouldn't have survived on their own as they rely on mum so we are thankful the members of the public contacted us.
"The female has been named Inver and the male has been called Forth.
"They will stay with us until they are around 12 to 14-months-old, just like with mum in the wild. We will teach them how to feed and take care of themselves and will release them when they are ready."
The charity reminded members of the public not to approach an otter if they spot them as the animal may feel threatened and use its strong bite to defend itself.
Instead anyone who finds an otter that they suspect needs help should monitor it from a safe distance and then contact the Scottish SPCA's animal helpline on 03000 999 999.
Image (c) Scottish SPCA.