Liver fluke warning for cattle and sheep farmers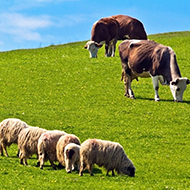 Recent weather patterns have led to evidence of infection in the UK.

Following reports of evidence of liver fluke in some parts of the country, cattle and sheep farmers are being urged to stay vigilant and monitor the situation closely.
According to the Sustainable Control of Parasites in Sheep (SCOPS) and Control of Cattle Parasites Sustainably (COWS) groups, sub-acute cases in sheep, caused by migrating immature fluke, have been reported in North West England.
APHA has also identified cases in the Midlands and Cumbria and positive fluke egg counts are starting to be seen in the West of Scotland. This, according to the groups, suggests the presence of adult fluke.
Testing of first season grazing lambs and calves by the University of Liverpool has revealed 'significant' variation between individual farms, even in the same counties.
Different results can also be seen in different groups of animals grazed on different parts of the farm. This, according to SCOPS and COWS, highlights how important it is to test livestock before treatment.
At this time of year, the groups state that the preferred option of testing for liver fluke is testing of faeces using either the fluke egg count or the coproantigen test.
According to the statement from SCOPS and COWS: "These tests can be applied to any age or management group of sheep and cattle and are relatively straightforward samples to collect. Faecal testing from late autumn through to spring will tell farmers whether or not treatment is needed, and help guide the timing of treatment and product choice."
If results come back positive, farmers are advised to discuss appropriate products for treatment with a veterinary surgeon or Registered Animal Medicines Advisor.
SCOPS has produced further information on treating liver fluke, which can be accessed here.