Born Free video highlights how humans are to blame for COVID-19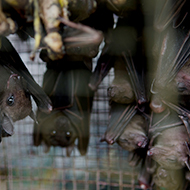 Charity calls for closure of wildlife markets worldwide

Wildlife charity Born Free has released a video emphasising the importance of changing the ways in which humans treat wildlife in order to prevent pandemics from occurring in the future.

The video, narrated by founder patron Joanna Lumley OBE, says: "To deal with the very immediate threat of another global catastrophe, we have to focus on ending the destruction and conversion of natural habitats and the devastating impact of the wildlife trade.

"The vast majority of these viruses originated in wild animals before infecting us. Destroying and exploiting nature puts us in closer contact with wildlife than ever before."

Born Free has compiled an online resource with information on how to take action and improve protections for wildlife here.

To view the video, please click here.
Image (c) Jan Schmidt-Burbach.