Project to tackle bovine mastitis and reduce AMR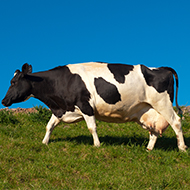 Researchers to analyse milk samples using mass spectrometry.

Researchers at Queen's University Belfast are working to develop a new, rapid test for bovine mastitis that could also help in the battle against antibiotic resistance.

The project will utilise mass spectrometry to develop a rapid diagnosis of mastitis from a suspected milk sample. Initially, this will require laboratory equipment, but researchers hope it could eventually be developed into an on-site test to enable faster detection of the condition.

Bovine mastitis poses a major challenge to the farming industry owing to its impact on cattle health and welfare, the difficulties in controlling the condition and the need to withhold milk from human consumption during treatment and recovery.

Currently, dairy farmers visually check for the condition during the milking process - looking for changes such as the formation of clots and any heat or swelling of the udder. The monitoring of 'somatic cell counts' is also used to screen for the disease, but samples need to be sent away for culture and sensitivity tests, which can take several days.

To minimise the pain and suffering of the cow, broad-spectrum antibiotics are often administered before the samples are sent off. But researchers say this therapeutic use of antibiotics could be contributing to the growing problem of antibiotic resistance.

In this project, scientists at Queen's will use REIMS technology (Rapid Evaporative Ionization Mass Spectrometry) to analyse milk samples. Not only would this method be more user-friendly for farmers, but it could also deliver near-instant results and reduce – if not eliminate - the need for broad-spectrum antibiotics.

Dr Simon Cameron from the Institute for Global Food Security (IGFS) at Queen's said the REIMS project could have a positive impact on agriculture, the agrifood industry and society as a whole.

"REIMS is a fairly new technology and we are constantly finding new applications for it. It has the potential to be a step-change in how we use mass spectrometry to address problems facing society and this project investigates just one of these," he said.

"By being able to analyse samples more quickly, and in a way that is more user-friendly to the farmer, we hope to be able to bring the benefit of mass spectrometry to dairy farmers through rapid diagnosis of bovine mastitis and identification of the causal microbe."

Interestingly, this same project will explore lameness in dairy cattle, of which current diagnosis also involves visual observation. Reseacrhers will conduct a longitudinal study on a dairy herd to assess a naturally occurring molecule or gene, using REIMS to identify potential 'biomarkers' that could flag up a proclivity towards lameness.

The project is being carried out in partnership with AgriSearch and the Agri-Food & Biosciences Institute (AFBI).