Study finds adult admissions for dog bites tripled in 20 years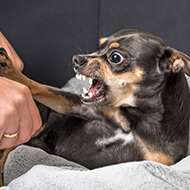 Researchers say more work on prevention strategies is needed

A new study by the University of Liverpool has highlighted the urgent need to tackle the public health issue of dog bites, revealing that adult hospital admission rates for dog bites tripled in England between 1998-2018.
The study – published in Scientific Reports – looked at the incidence and socio-demographics of patients admitted to English NHS hospitals for dog bites between 1998-2018.
It found that annual hospital admission rates rose from six to 15 per 100,000 people, with more than 8,000 admissions in 2018.
Children aged 14 years or under made up 25 per cent of all admissions, however their incidence rate remained relatively stable – averaging 14 admissions per 100,000 people per year.
However, the rates in adults tripled from five to 15 admissions per 100,000 people, with the largest increase seen in women between the ages of 35-64.
Admission rates were revealed to be higher in rural areas compared to urban areas and the highest incidence of bites was found in the most deprived neighbourhoods.
Direct health care costs to the NHS also increased, peaking at an estimated £71 million in the financial year 2017/2018.
Dr John Tulloch, lead author and an epidemiologist at the University of Liverpool, said: "Despite sustained education and preventative campaigns across large parts of society, the issue of dog bites continues to grow and is a huge public health issue.
"Dogs provide large benefits to society, especially in these difficult times where they can provide great companionship. However, working and living with animals can pose an injury risk. Our study presents just the tip of the iceberg, as it only includes injuries severe enough to require hospital admission."
The researchers state that further work is needed to understand what is increasing the rates of these incidents in England, so that effective prevention strategies can be developed.