Young Kennel Club launches challenge for young dog owners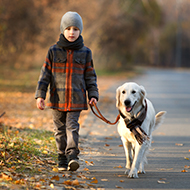 Four-week challenge encourages exercise and responsible dog ownership

The Young Kennel Club is encouraging young dog owners to stay active during lockdown with the launch of its Dog Walk Challenge.
The challenge, which is taking place between 18 January and 12 February, asks members of the Young Kennel Club to walk short distances each day with their dogs (while adhering to Government guidelines) to total five or 10 miles overall, depending on their age range.
Dog owners between six and 13 years old are challenged to walk five miles across the four weeks, whilst those between 14 and 24 years old should try and total 10 miles walked.
Competitors who complete the challenge will receive a Young Kennel Club Dog Walk Challenge certificate and will be entered into a prize draw to win either a free place at Young Kennel Club camp in 2021, or a Fitbit and £100 Argos voucher.
The Young Kennel Club asks that young people taking part and parents regularly check the latest Government advice across England, Scotland, Wales and Northern Ireland to assess their own situation, safety and ability to take part.
Ben Ashcroft, Young Kennel Club chairman, said: "We are delighted to launch the Dog Walk Challenge to keep our members engaged with an important aspect of responsible ownership, which is fun at the same time.
"The COVID-19 pandemic has caused a lot of change and sadly many of our members' events, that we all look forward to, have had to be postponed or even cancelled as a result.
"This initiative however is something everyone can safely do together, while being apart."
For more information on taking part in the Young Kennel Club Dog Walk Challenge, please visit the Young Kennel Club website.