Scottish SPCA appeals for food donations for fox cubs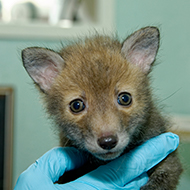 Charity expects 'busy year' for wildlife admissions

The Scottish SPCA is asking animal lovers in Scotland to donate vital resources to help the charity care for fox cubs brought into it's National Wildlife Rescue Centre in Fishcross.
As fox cub season approaches, the charity expects to take in high numbers of infant foxes and staff members will have to take on the difficult task of nurturing them back to health.
2019 was the Scottish SPCA's (SSPCA) busiest year ever, with more than 11,000 wildlife casualties admitted. Although the pandemic caused a significant drop in the number of animals brought into its wildlife hospital, the charity still treated more than 7,000 wild animals in 2020.
Centre manager Steven Gray said: "As we are entering fox cub season, we are appealing for Pedigree puppy food and puppy milk.
"Last year, we cared for 76 foxes. 39 of those were fox cubs. It can be a struggle to keep up with so many hungry mouths to feed.
"We expect to be even busier with admissions this year so we need help from members of the public. If anyone can help with food for these young mammals, we would appreciate anything that people can spare."
Anyone living in the Fishcross area can drop off puppy food and milk directly to the SSPCA's National Wildlife Rescue Centre. While those further afield can purchase supplies from the charity's Amazon wishlist.