Study highlights need for greater AMR awareness in Africa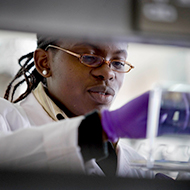 Report provides insight into the development of future initiatives.

New research highlighting some of the problems surrounding antimicrobial resistance (AMR) in parts of Africa has identified a need for a holistic and interdisciplinary approach to the threat of AMR in these areas.

Led by the Royal Veterinary College (RVC) and Research England, the study explores specific AMR issues and challenges in low and middle-income countries (LMIC). Researchers looked specifically at the status of AMR management in Kenya, Uganda and Tanzania, and compare their progress at a national level.

The findings highlight a need for greater capacity in LMIC in areas such as AMR awareness, stewardship programmes, socio-economic impact, communication and stakeholder engagement. They also show that the adoption of technology for infectious diseases and AMR will require a different set of skills, data integration, more effective communication and greater stakeholder involvement.
A serious threat to global health, AMR is driven by the inappropriate use of antimicrobials and an overall lack of knowledge about disease emergence and spread.
Low and middle-income countries are at a much higher risk of AMR owing to the high incidence of infectious diseases and factors such as poor sanitation and contaminated water. The problem is made worse by limited access to antibiotics, weak health systems and underdeveloped antibiotic stewardship.

Professor Claire Heffernan, director of the London International Development Centre and Professor of International Development at the RVC, said: "This report is both relevant and timely as we consider the global impact of infectious disease and antimicrobial resistance, following the events of 2020.
"By exploring knowledge exchange activities in the East Africa region, it provides useful insight to the development of future initiatives, and outlines pathways and pipelines for further research and collaboration in this space."

The study, 'East Africa Case Study: UK-Africa collaborations in combatting Antimicrobial Resistance (AMR)', was undertaken by Prospect IP on behalf of The Bloomsbury SET.
Image (C) DFACT photo library. Licensed under CC by 2.0