Iguana escapes fire by jumping on fireman's helmet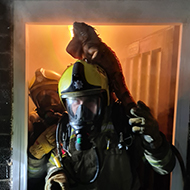 Pet was carried to safety by startled crew member

Firefighters from the Northamptonshire Fire and Rescue Service made a surprise rescue while extinguishing a house fire in Corby, as an iguana leaped on to a team member's helmet to escape the blaze.
The team responded to a call about a fire caused by a faulty reptile heating mat at 11pm on Wednesday 6 January.
As they tackled the flames, the owner's pet iguana jumped to safety on to one of the firemen's helmets.
Speaking to the BBC, a spokeswoman for the Northamptonshire Fire and Rescue Service said: "The fireman... didn't realise the iguana had climbed on top of him at first as he initially thought it was a colleague touching his helmet."
The animal was unhurt and was carried safely out of the house, although there was some damage to the home, there were no other injuries.
In a tweet about the unique incident, the Service wrote: "One of [the] occupants couldn't wait to be rescued and jumped to safety to hitch a ride out!!"
The public responded to the tweet, praising the brave work of the firefighters and wishing the best for the brave reptile and it's owners.
Image (c) Northamptonshire Fire and Rescue Service.