Government launches gene editing consultation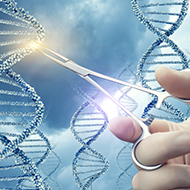 Move sparks concern for animal welfare.

The UK government has announced plans to consult on gene-edited crops and livestock.

Environment secretary George Eustice said on Thursday (7 January) that gene editing could help farmers with crops resistant to pests, disease or extreme weather, and produce healthier, more nutritious food.

Under a 2018 legal ruling from the European Court of Justice, gene editing is regulated in the same way as genetic modification.

Mr Eustice said that the 10-week consultation will focus on preventing them from been regulated in the same way, as long as they have been produced naturally or by a wide range of countries.

Speaking at the digital Oxford Farming Conference, Mr Eustice said: "Gene editing has the ability to harness the genetic resources that mother nature has provided, in order to tackle the challenges of our age. This includes breeding crops that perform better, reducing costs to farmers and impacts on the environment, and helping us all adapt to the challenges of climate change.

"Its potential was blocked by a European Court of Justice ruling in 2018, which is flawed and stifling to scientific progress. Now that we have left the EU, we are free to make coherent policy decisions based on science and evidence. That begins with this consultation."

The National Farmers Union (NFU) has welcomed the consultation, saying "it could be a very important tool to help us meet the challenges for the future."

But the move has sparked concern from the RSPCA, which said it would be a "huge mistake" for government to "water down" the legislation.

RSPCA chief executive Chris Sherwood said: "The RSPCA is very concerned about government plans to weaken legislation on livestock gene editing in England. This could lead to food from genetically altered animals being offered for sale on supermarket shelves or in restaurants, an unwanted and unacceptable development even if the food were labelled.

"Over and above the forthcoming government consultation, we would like to see a national debate taking place rather than just rush to deregulate gene editing. There are many questions to be considered and the public has the right to be informed and engaged in this debate and for us all to understand what this means for animal welfare."

The consultation is now open and will run until Wednesday 17 March.