Charity calls for exemption from new travel rules for assistance dogs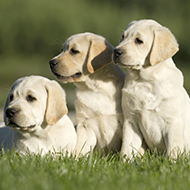 Group suspends supply of guide dog puppies to NI

The charity Guide Dogs has expressed disappointment regarding the post-Brexit travel rules and the barriers they present for assistance dogs travelling from Great Britain to Northern Ireland.
The formal agreement of the new Irish Sea border means that the new pet travel rules for travel to the EU also apply to Northern Ireland. Under these rules, pets entering Northern Ireland from Great Britain have to have certain paperwork and must be vaccinated against rabies 21 days before travel.
Typically guide dog puppies are sent for early training at eight weeks old, staying with their carer until they can begin their specialised training in a Guide Dogs' centre at 12-16 months old.
But, as they cannot be vaccinated for rabies until 12 weeks old, the earliest a guide dog puppy could enter NI from Britain is 15 weeks.
Speaking to the BBC, a spokesperson for Guide Dogs said that this delay will cause the puppies to miss out on essential training at a time key time in their socialisation and development. In addition, the charity added that it would not be best for the puppy's welfare to travel during this period.
Although trained adult assistance dogs will still be supplied to Northern Ireland, the issues that the new rules impose on training and socialisation have led Guide Dogs to suspend the placement of puppies in Northern Ireland.
The charity trains more than 1,000 guide dog puppies each year that go on to support and improve the lives of some 200,000 people with sight loss living in the UK.