Edinburgh Zoo may have to return giant pandas to China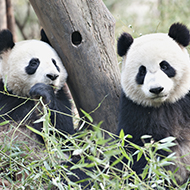 COVID-19 losses leave charity considering 'every potential saving'

Edinburgh Zoo's giant pandas may have to return to China next year as a result of the financial pressure that COVID-19 has placed on the Royal Zoological Society of Scotland (RZSS).
It currently costs £1 million a year to lease the mating pair from the Chinese Government. RZSS is concerned that it may be unable to renew the deal at the end of the ten-year contract next year.
The zoo had to close for three months last summer, as did Highland Wildlife Park which is also run by RZSS. The financial impact of the reduction in visitor numbers amounted to a £2 million loss for the charity.
RZSS Chief executive David Field said: "We have to seriously consider every potential saving and this includes assessing our giant panda contract and the cost of their daily care.
"At this stage, it is too soon to say what the outcome will be. We will be discussing next steps with our colleagues in China over the coming months."
The zoo was not eligible for the UK Government's zoo fund, as it was aimed at smaller zoos. But it has taken out a government loan, furloughed staff, made redundancies where necessary and launched a fundraising appeal in a bid to recover funds.
Mr Field added that the charity is incredibly grateful to its members and other animal lovers who have helped to keep the doors open.
He concluded: "Yang Guang and Tian Tian have made a tremendous impression on our visitors over the last nine years, helping millions of people connect to nature and inspiring them to take an interest in wildlife conservation.
"I would love for them to be able to stay for a few more years with us and that is certainly my current aim."