New series shares recipes for pet-safe festive treats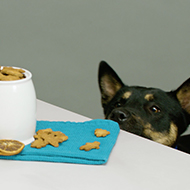 Battersea encourages owners to include pets in the festive fun

Battersea has launched a new Christmas baking series across all it's social media channels, to teach owners how to make pet-safe treats for dogs and cats.
The two-part series will show dog owners how to make Christmas dog treats using xylitol-free peanut butter and banana. Meanwhile, cat owners will be taught how to use rolled oats and turkey to make a festive snack for their pet.
Battersea also reminds pet owners of the importance of insuring that animals maintain a healthy balanced diet and adds that these food items should only be given as a treat.
To view the series, please visit Battersea's YouTube, Facebook, Twitter and Instagram.
Image (c) Battersea.