BVA urges pet owners to be mindful of festive hazards this Christmas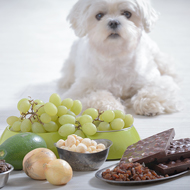 Eight in ten vets report seeing cases of toxic ingestion in 2019

BVA has issued a warning to pet owners about keeping pets away from chocolate, mince pies, Christmas puddings and decorations across the festive season, in response to findings from it's Voice of the Veterinary Profession survey.
The survey showed that 82 per cent of UK veterinary professionals working with companion animals saw at least one case of toxic ingestion across Christmas last year.
The most commonly reported cases involved a dog ingesting something dangerous. With chocolate ranking as the top edible hazard. 94 per cent of veterinary professionals reported seeing cases of chocolate ingestion in dogs during the Christmas break last year.
BVA's survey also found that cats were the most common animal to need veterinary treatment for ingesting non-edible items. 52 per cent of veterinary professionals who saw cases of toxic ingestion in cats last year stated that the animal had ingested seasonal plants like poinsettia, holly and mistletoe.
More than half of the veterinary professionals surveyed also treated cats for antifreeze poisoning.
BVA senior vice president Daniella Dos Santos said: "My advice to owners is to keep all edible goodies safely out of reach of inquisitive noses and to keep pets to their normal diets, avoiding feeding them any human food treats. If you are concerned that they have eaten something they shouldn't, consult your vet straight away.
"With COVID-19 restrictions in place this year, many pet owners may be travelling away from home to spend Christmas with family and friends in their 'bubbles'. So it is important to plan ahead for accessing emergency care if needed with practices who aren't your local vets."