Mars Comedy Pet Photographer of the year revealed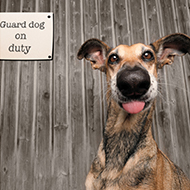 Elke Vogelsang scooped first prize for a hilarious photo of rescue dog Noodles.

The winner of the 2020 Mars Petcare Comedy Pet Photographer of the Year Award has been revealed.

Elke Vogelsang scooped first prize for her photo of rescue dog Noodles, a Galgo Espanol mix breed. With his goofy expression, Noodles was a clear favourite with the judges and also won the Dog category award.

On hearing the news, Elke Vogelsang said: "It's wonderful to be associated with something that makes people happy. This dog definitely is a mood-lifter. Happy to share her funny, gorgeous face with the world."

Elke discovered Noodles in a kill shelter in Spain, abandoned at the end of the hunting season. Determined to rescue her, Elke said that she 'fell in love with her gorgeous face and funny ears immediately.'

The Mars Petcare Comedy Pet Photo Awards aims to showcase the incredibly positive impact that pets have on our lives and raise awareness around homeless pets in the UK. Pet and animal lovers were encouraged to submit funny images of their pets for a chance of winning £3,000 and to raise money for the Blue Cross Pet Charity.

Elke said that she intends to reinvest some of the prize money back into an organisation for pet rescue. Other winners include:
Cat Category: Malgorzata Russell's brilliant photo of Basil, peeking from under a fence titled 'Why are you upside down, Mum?'

Mighty Horse Category: Magdalena Strakova with her great shot of three horses 'Gossip Girls'

All Other Creatures: 'Drama Queen' by Anne Linder took the prize with her yawning rabbit

Pets Who Look Most Like Their Owner's Category: 'Morning Mood' a photo by Hannah Seeger and her dog

Junior Category: Ayden Brooks for his sleepy cat called 'Fox Mulder'.

Tom Sullam from the Comedy Pet Photo Awards, adds: "I think it's fair to say that most people can't see the end of 2020 fast enough! 2021 will hopefully bring some good news, some cheer and positive horizons for everyone - but in all the gloom of 2020, the Comedy Pet Awards managed to raise our spirits more than most things.

"The importance of pets in our lives - the positive life-affirming friendship that they bring without even realising it - is often underestimated and taken for granted. But this year has really given these pets a chance to shine and I think without pets many, many people would have had a harder time dealing with the isolation. Thank you to the pets, all of them, for making us smile through this competition, and keeping many of us on an even keel!"
Image (C) Mars PetCare.