Dormouse rescued after getting stuck in garden bird feeder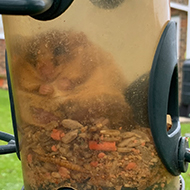 Homeowner baffled upon finding sleeping creature in their garden

A dormouse that had been 'plumping up' for winter got itself into a tight spot when it managed to squeeze into a garden birdfeeder and needed help from the homeowner to get out.
The dormouse was spotted on Tuesday 17 November by the homeowner, who lives on the Isle of Wight. It's thought that the nocturnal animal got into the feeder overnight in search of food and then fell asleep when it became stuck inside.
The concerned Isle of Wight resident contacted the Hampshire Dormouse Group on Facebook, asking for urgent advice on how to get the creature out safely. The group sent them a link to register the animal on the National Dormouse Database and explained how and when to release it.
The dormouse was released successfully and quickly skittered away, apparently unscathed after its ordeal.
Catherine Hadler, a volunteer for the Hampshire Dormouse Group, was baffled when she saw the picture of the trapped dormouse.
"The dormouse had entered the bird feeder and eaten so much bird food that it was too chubby to get out," she said. "Safe to say this fatty will survive hibernation just fine."
According to the group, dormouse populations in Britain have declined by 51 per cent since 2000. This is largely due to the destruction of hedgerows for housing developments and farmland.
The Hampshire Dormouse Group is urging the public to help dormice by reporting any sightings to the National Dormouse Database (NDD). This will help organisations to gain an understanding of where dormouse are living across the country, and will inform conservation efforts.
Image (c) Hampshire Dormouse Group.