Pesticides found in flea treatments are contaminating English rivers, study finds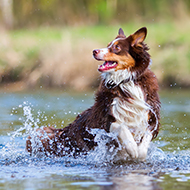 Concentrations found in some samples far exceeded accepted safe limits

Researchers at the University of Sussex have found widespread contamination of English rivers with fipronil and the neonicotinoid imidacloprid, two pesticides commonly used in veterinary flea products.
According to the VMD, these chemicals, which are banned for agricultural use as a result of their negative environmental effects, are found in 87 licensed veterinary products either alone or in combination with other parasiticides. Products include spot-on solutions, sprays and collars.
Professor Dave Goulson and Dr Rosemary Perkins from the University of Sussex analysed 3,861 water samples collected by the Environment Agency in 20 English rivers from 2016-2018.
They found fipronil in 98 per cent of freshwater samples, with the average concentration exceeding safety thresholds fivefold.
The researchers also detected imidacloprid in 66 per cent of samples. In seven out of the 20 rivers sampled, this chemical was found to pose a high environmental risk.
Dr Perkins said: "Fipronil is one of the most commonly used flea products, and recent studies have shown that it degrades to compounds that are more persistent in the environment, and more toxic to most insects, than fipronil itself.
"Our results, showing that fipronil and its toxic breakdown products are present in nearly all of the freshwater samples tested, are extremely concerning."
The study – published in Science of the Total Environment – shows that the highest levels of pollution were detected immediately downstream of wastewater treatment works, suggesting waterways may be being contaminated by the chemicals being washed down household drains.
Dr Perkins concluded: "We've identified a number of steps that can be taken to minimise or avoid environmental harm from pet flea and/or tick treatments. These range from introducing stricter prescription-only regulations, to considering a more judicious and risk-based approach to the control of parasites in pets, for example by moving away from blanket year-round prophylactic use.
"We'd recommend a re-evaluation of the environmental risks posed by pet parasite products, and a reappraisal of the risk assessments that these products undergo prior to regulatory approval."