Study reveals link between immune system genes and diabetes in certain dog breeds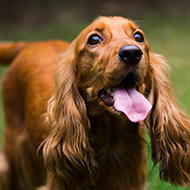 Important findings published as part of Pet Diabetes Awareness Month

A new study which examines associations between immune system genes and canine diabetes mellitus in high-risk breeds could help improve diagnosis and treatment of diabetes in dogs.
Diabetes mellitus affects approximately one in 300 dogs across the UK, and is much more common in certain breeds than others. Previous studies have implicated a group of immune system genes, or major histocompatibility complex (MHC) genes, in canine diabetes mellitus, but this study is the first to examine this association in individual pedigree dog breeds.
The study – published in Canine Medicine and Genetics – was conducted by researchers at the Royal Veterinary College (RVC), the University of Manchester and the University of Oxford.
The team studied data from 646 diabetic dogs and 912 breed-matched non-diabetic controls, across 12 high-risk breeds including cocker spaniels, border terriers, Labrador retrievers and Tibetan terriers.
The findings confirmed that particular MHC genes are associated with canine diabetes in certain breeds of dogs, indicating the need for further research into the role of the immune system in the development of canine diabetes, as well as additional genetic studies in single breeds.
According to the study, future research will help identify causal variants and mechanisms, which could improve the diagnosis and management of affected dogs.
Alice Denyer, PhD student at the Royal Veterinary College, said: "I am pleased to have been part of this important research, particularly given that November is Pet Diabetes Awareness Month.
"It is really interesting to see the variation that we found among the breeds studied, supporting the theory that canine diabetes mellitus is heterogeneous among breeds. Human diabetes mellitus is known to be highly heterogenous, but we do not know currently know how similar canine diabetes mellitus is to the human disease.
"Undoubtedly there is much more to uncover in this area, and I look forward to working further on this important issue which affects so many dogs in the UK."