Chief Vet urges public to be wary of deceitful pet sellers this Christmas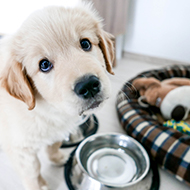 Government publishes awareness video as part of Petfished campaign

In the lead up to Christmas, the UK government is reminding those looking to buy a puppy or kitten to do their research and look out for the signs of untrustworthy sellers.
Under Lucy's Law, commercial third-party puppy and kitten sales have been banned in England. Meaning that anyone looking to acquire a new puppy or kitten must buy direct from a breeder, or consider adopting instead.
However, with new lockdown restrictions in effect until 2 December, potential pet buyers are being urged to ensure they carry out the proper checks to know they are buying from a trustworthy source and not being deceived by puppy and kitten dealers who breed and keep animals in poor conditions.
Christmas is a peak time for puppy and kitten buying. According to online retailer Preloved, the majority 'high volume' days for new pet listings on its site occurred between late November and mid-December last year.
Defra has released a video titled 'The 12 Days of Petfished' as part of its Petfished campaign, to educate the public on the risks posed by untrustworthy sellers at this time of year.
Chief veterinary officer Christine Middlemiss said: "After a difficult year and with many of us spending more time at home, many people may be considering getting a new puppy or kitten.
"However, the lead up to Christmas is a prominent time for unscrupulous sellers to take advantage of those looking to buy a new pet. That is why we are advising people to remain vigilant and to always thoroughly research sellers before getting in touch."
"Potential buyers should also note that Christmas might not be the best time to get a pet as it can be noisy and chaotic, which isn't the best environment to settle in a new animal."
The RSPCA is also supporting the Petfished campaign, urging potential buyers to always research the seller before buying and walk away if they have any concerns. "It is always much better to wait for the right dog than to rush into buying - and unwittingly support cruelty," said chief executive Chris Sherwood.