Academic honoured for service to animal medicines training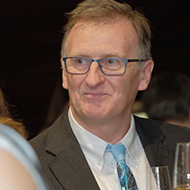 Carwyn Ellis awarded the SQP Award for Outstanding Contribution.
A former academic leader at Harper Adams University has been honoured for his "outstanding contribution" to animal medicines training.

Carwyn Ellis scooped the SQP Award for Outstanding Contribution in recognition of his service to the Animal Medicines Training and Regulatory Authority (AMTRA).

The previous head of animal welfare, production and veterinary science retired from his post last year but continues to visit Harper Adams as a lecturer.

AMTRA chair Phil Sketchley said: "It gives me great pleasure to present the award this year for Outstanding Contribution to the Industry...[Carwyn] has made many years contribution and service to the AMTRA council as an observer, and has undoubtedly been pivotal in making the SQP and RAMA sector work and has had the respect from all involved in this sector and indeed the government bodies that control us.

"With over 30 years of contributions to the sector, Carwyn helped train the very first candidates in 1985/86 to gain their Suitably Qualified Person (SQP) status and has importantly since then helped manage the transition to a prescription-only based model in 2005 after the launch of the then-new VMR."

Phil continued: "He's made a major influence and contribution to our sector and brought about the introduction of an approved CPD programme and also brought in the modular system of examinations which supported the introductions of the companion animal qualification, the vet nurse qualification and more recently moving us to level 5 for farm RAMAs."

The SQP Award for Outstanding Contribution recognises individuals within the animal health sector who, during a sustained career, have made a significant contribution to the industry. Recipients of the award have also been an inspirational figure to others by demonstrating best practice and professional development.