Denmark to cull 17 million mink after mutated COVID-19 strain found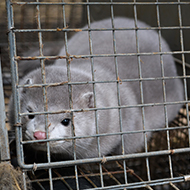 Government announces action to curb rapid spread among mink farms

The Danish government has announced plans to cull all mink in the country – as many as 17 million - after a new mutated form of the COVID-19 virus was found on mink farms.
More than 50 million mink are bred each year for their fur. Denmark is one of the world's biggest producers of mink fur, with its main export markets in China and Hong Kong.
The country began culling mink earlier this year when COVID-19 was found on mink farms in Northern Jutland. The virus has since spread to 207 farms as of 4 November 2020.
According to Danish authorities, at least five cases of this new virus strain have now been found and 12 people have become infected.
A report from the Danish health authority Statens Serum Institut (SSI) found that these new COVID-19 variants show reduced sensitivity to antibodies and that this could potentially reduce the effectiveness of a future vaccine.
Speaking at a press conference, Prime Minister Mette Frederiksen described the situation as "very, very serious," stating that police and military personnel will now be brought in to help cull all of the country's mink as quickly as possible.
The government admitted that this cull will effectively halt the Danish mink industry for a number of years, but a general ban will not be imposed on future mink farming in Denmark.