New 10 year plan launched to help protect honey bees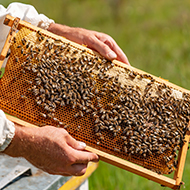 Defra publishes key outcomes to improve bee health

Defra and the Welsh government have announced the launch of the Healthy Bees Plan 2030, which aims to sustain and improve the health of honey bees in England and Wales.
Bees are a vital part of in UK food and crop production, but bee populations in the UK are struggling as a result of pests, diseases and environmental threats including the invasive Asian hornet.
The Healthy Bees Plan 2030 sets out four key outcomes to help protect bee health and beekeeping in England and Wales over the next decade. According to Defra's statement, these outcomes include:
1. effective biosecurity and good standards of husbandry, to minimise pest and disease risks and improve the sustainability of honey bee populations
2. enhanced skills and improved production capability of beekeepers and bee farmers
3. strong scientific evidence supporting the actions taken to support bee health
4. increased opportunities for knowledge sharing and collaboration in relation to honey bee health and the needs of pollinators.
Commenting on the launch of the plan, pollinators minister Rebecca Pow, said: "During the coronavirus pandemic we have seen an increased connection with the natural world, and the new Healthy Bees Plan provides a blueprint to look after the health of some of our most important insects – the bees – our unsung heroes.
"Bee health stakeholders have had a key role in developing our plan, and we look forward to working together to help ensure our bees can survive and thrive for future generations."
Steps will now be taken to implement the Healthy Bees Plan 2030 in collaboration with beekeepers, bee farmers, organisations and government.