Battersea announces winner of 2020 Purr Minister competition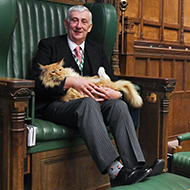 Commons speaker's cat crowned Westminter's top feline

A ginger Maine coon named Patrick, belonging to speaker of the House of Commons, Sir Lindsay Hoyle, has been elected as Battersea's new Purr Minister, after weeks of campaigning from pet-owning politicians.
Patrick beat out nine other cats in the public vote, earning popularity with his pledges of 'impurrtiality' and 'a better work/mouse balance'. He succeeds former Cynon Valley MP Ann Clwyd's cat Alfie, who was elected in 2018.
Sir Lindsay Hoyle, speaker of the House of Commons and Patrick's owner, said: "While it is undoubtedly a bit of fun to receive this title for Patrick – and goodness knows we need it in these difficult times – I am so pleased it has been awarded by Battersea, whose work in helping animals in need is well known and deserves our full support.
"Patrick was up against a tough field of well-loved cats, but I think his personality and beauty won over members of the public, who I must thank for all their support in electing him."
The Purr Minister Competition was created to celebrate the companionship and joy that cats provide and to raise awareness of animal welfare issues. This year's election was one of the most popular ever, with Battersea reporting a 200 per cent increase in votes compared to the last competition in 2018.
Lindsey Quinlan, head of catteries and feline welfare for Battersea, said that the charity had been blow away by the amount of public support that this year's candidates received.
She added: "In what has been a very complicated year for everyone, we hope our fun competition has provided some light relief, while also highlighting important animal welfare issues and the vital work Battersea is doing to help animals in need."
Images (c) Jessica Taylor.