Blue Cross offers help for vulnerable horses during pandemic winter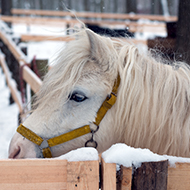 Home Direct scheme rehomes horses quickly while keeping centres clear

Blue Cross is working to help horses and ponies that need to be rehomed this winter as a result of the difficulties that the COVID-19 pandemic has caused for owners.
In the lead up to what is predicted to be a very difficult winter, most equine charities are already full and unable to help the public with their horses. Blue Cross is offering its Home Direct service as a welfare solution to help horses find new homes quickly and to take the pressure off struggling charities.
Vicki Alford, horse rehoming centre manager at Blue Cross, Burford said: "Home Direct is a practical and efficient rehoming scheme to help us support even more horses during this unprecedently difficult time.
"We understand the struggles that many horse owners may be going through as the pandemic continues. We encourage them approach us whilst their horses are still healthy rather than risk them being passed form pillar to post, potentially ending up in a welfare compromised situation.
"We are here to listen and help, not to judge, and with Home Direct we a can help people as much as we are helping horses."
Every horse that goes through the Home Direct service is thoroughly assessed by a member of the Blue Cross horse unit team and then advertised on the charity's website.
Blue Cross arranges and oversees initial visits with potential owners and then, if it's a good match, the horse is rehomed directly from its old home to the new one. 87 horses have been helped through the scheme since its launch in 2015.
Horse owners looking for advice, support or guidance about giving up a horse should email helpmyhorse@bluecross.org.uk