Hedgehogs at greater risk before and after hibernation, study suggests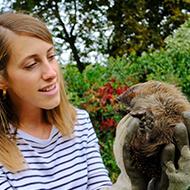 Majority of deaths occur from predation or vehicle strikes.

Rural hedgehog populations are more at risk immediately before and after the winter hibernation period than during hibernation itself, new research suggests.

The study, published in the journal Animals, tracked 33 hedgehogs from two contrasting rural populations in England - one near a base at Hartpury University, Gloucester, and the other at Nottingham Trent University, Nottinghamshire.

To their surprise, researchers found that none of the hedgehogs died during the hibernation period. Instead, all deaths occurred prior to or after the hibernation period, mainly from attacks by predators or vehicle strikes.

The study was conducted by Lucy Bearman-Brown from Hartpury University in collaboration with researchers at the universities of Reading, Keele, and Nottingham Trent. It was funded by the People's Trust for Endangered Species (PTES) and the British Hedgehog Preservation Society, which together run the Hedgehog Street project.

Nida Al-Fulaij, Grants Manager for PTES, said, "Lucy's research is really important. We can now focus our efforts on investigating what farm management practices, particularly of hedgerows and scrubby areas, can help give our rural hedgehogs the best chances of surviving hibernation.

"Ensuring hedgehogs and other wildlife have access to plenty of secure foraging and nesting areas is going to be critical."

Hedgehogs populations are falling across Europe, with researchers estimating that there could be fewer than one million of them left in the UK. Despite its potential importance, however, little research has been conducted on the hibernation behaviour of hedgehogs in the last 40 years.

In the study, Lucy found that hedgehogs consistently nested close to some habitats, including hedgerows and woodlands, but avoided others, such as pasture fields.

"Our data suggests that hibernation was not a period of significant mortality for individuals that had reached a sufficient weight in autumn, but that habitat composition did affect where nests were built," she explained.
"Therefore, land management practices – both historic and current – that provide hedgehogs with access to vegetated areas is likely to positively influence hibernation success and the survival chances of hedgehogs."
Image (C) Hugh Warwick, Hedgehog Street.