'Social distancing' between sheep could eliminate maedi-visna in flock – study finds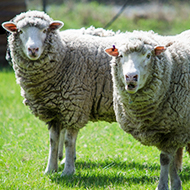 Scientists find much higher rates of spread during winter housing periods

A new study from teams in Scotland and The Netherlands has found that prolonged close contact between sheep is effectively the sole cause of the spread of the incurable disease maedi-visna.
Occurring in most sheep-keeping areas across the globe, meadi-visna (MV) is mostly transmitted through exhaled droplets and aerosols from infected sheep, indicating that continued proximity aids in its spread. However, until now, there has been no quantitative analysis of virus transmission under farm conditions.
Scientists from the University of Edinburgh, Moredun Research Institute and GD Animal Health in The Netherlands found that the virus had a much higher rate of transmission during winter housing periods than between grazing sheep.
These findings suggest that MV could be eliminated from flocks over time, as the spread of the virus is too slow between sheep kept at grass to sustain the disease.
The study – published in the journal PLOS ONE - also found that the time between an animal being infected and becoming infectious is about one year, meaning that newly infected animals are highly unlikely to spread the disease. Additionally, lambs from infected ewes have a low chance of contracting MV.
Dr Tom McNeilly from Moredun Research Institute says: "This study answers simple but highly important questions for farmers on MV control: how is the virus transmitted between sheep and how best to prevent this happening?
"Our results show that transmission occurs almost exclusively during housing and points towards simple and practical methods to reduce transmission within the flock."
Moving forward the teams will work to determine the most effective ways to test for the virus, as well as cheap and practical methods of reducing transmission.