Vet Professionals offering webinars on feline health for vets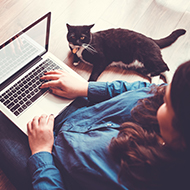 Thirty-minute sessions offer vets and VNs quick tips and advice

Vet Professionals - a company that provides advice and information to pet owners and veterinary staff - are offering free 'ten-minute tips' education sessions on a range of topics related to feline health.
The webinars are held on Wednesdays at 1.30pm via Zoom. Sessions typically last around 30 minutes and include a live Q&A session.
Upcoming sessions include:
'How to place naso-oesophageal feeding tubes in cats' - 14 October

'How to place oesophagostomy feeding tubes in cats' - 28 October

'How to calculate tube feeding nutritional requirements' - 18 November.
Full details on future sessions, as well as links to previous webinars and video tutorials, are available on the Vet Professionals website.